This post may have affiliate links, which means I may receive commissions if you choose to purchase through links I provide (at no extra cost to you). Read More
Keeping bathroom odors in check is essential for maintaining a fresh smelling home. The smells from the bathroom can creep into the hall and into other rooms quickly if it is not taken care of quickly. Quick and easy tips and tricks to Make Your Bathroom Smelling Fresh are easier than you think.
🧽 Keep Your Bathroom Odor Free
It helps keep household sanitation levels at a healthy, happy level. However, those sneaky bathroom odors have a tendency to accumulate rather quickly, much faster than we can keep up with on a daily basis. Those of us with large families, kids, pets, and busy schedules understand how difficult it can be to find the time to regularly keep bathrooms sparkling clean and smelling fresh. Luckily, there are some easy ways to maintain a clean and fresh smelling bathroom without spending too much of your precious time in your bathroom with your cleaning gloves on. So let's dive right into the best and low-maintenance ways to keep those bathroom odors under control.
Pick a couple of your favorites off this list, or use all of them if you have the means. The more of these techniques you use, the less your bathroom will be prone to smells and odors, guaranteed.
Odor Neutralizing Toilet Drop In
A toilet drop in, particularly one that uses all-natural ingredients, is one of the best ways to eliminate odors caused in the toilet. This one is our top pick, although there are many others available that work just as well. Keep a bottle of the stuff within reachable distance from the toilet so that everyone remembers to use it.
These are powerful, discreet, and effective ways to get rid of even the toughest bathroom odors. Plus, they fill the air in your bathroom with a nice, natural scent. You can always choose to make the Best Homemade DIY Toilet Cleaners as an alternative. These are quick and easy to make and use.
Wipe Down The Bathroom Sink
You might not have expected to see this one on our list since most bathroom odors are associated directly with toilets and mildewy towels. But, odors can form from all kinds of other build-up too. Sinks are arguably one of the most heavily used appliances in our bathrooms and you should wipe them down 3 – 5 times per week. So, between all the hand-washing, tooth brushing, shaving, and make-up applying, sinks have a tendency to get funky fast!
The best way to combat odor and grime build-up in sinks is to give them a good wipe-down as often as possible. This is best done with a Clorox wipe or DIY Disinfectant Wipes. Doing quick, regular wipe-downs eliminates the need for time-consuming, heavy-duty sink cleaning sessions and saves time. You can save money by making these wipes yourself. We love making our own Bathroom and Glass Spray for the powder rooms and made recipes and labels for you to download for free.
Wipe Under The Toilet Seat
Musty pee smells are not a nice thing to encounter when you walk into your bathroom. These odors are mostly caused by those gooey, week-old splashes of urine collecting under your toilet seat. Gross, right? There's nothing worse than letting that pee accumulate and then having to viciously scrub them away a month later.
The best way to tackle these (and the accompanying odor) is to wipe them away before it starts adding up. An easy, quick way to do this is to keep some wet cleaning wipes near your toilet. After you're done with your usual toilet business, but before you wash your hands, grab one of the wet cleaning wipes and give the toilet seat a nice wipedown on all of its surfaces. This is a convenient approach because you're already in the bathroom and you need to wash your hands anyway, so giving the toilet seat a quick wipedown in the process means you'll hardly even feel like you're cleaning!
Essential Oil Diffuser
This tip is your best bet for making your bathroom smell like a divine spa. Essential oil diffusers come in all sorts of pretty shapes and sizes these days, but their biggest advantage is the lovely scent they give your home. Although they diffuse a strong, natural scent, the smells are pleasant and not overwhelming. This essential oil diffuser is one of our favorites and is worth the investment.
I've found that with essential oil diffusers, it's worth it to buy the ones with the slightly heftier price tags, as the cheaper ones don't diffuse the oil scents as nicely. And getting a nice big whiff of lavender or lemon essential oils when you walk into your bathroom is much more pleasant than getting a whiff of urine or musty towels!
Sale
Of course, the best answer is to rid your bathroom of the things causing the foul smells to begin with and not just covering it up with essential oils. But, these smell lovely!
Baking Soda On The Counter
I could give you a million reasons as to why baking soda is one of the most underrated and valuable products you have in your home, but today I'll stick to this one reason. Keeping a small, discreet jar of it either decorated or strategically hidden will help combat bad odors in the bathroom. Baking soda is a powerful odor neutralizer so it helps keep the air smelling fresh and clean even against the odds.
Use Poo Spray
The smell a #2 leaves behind in a bathroom is a no-brainer major contributor to the list of common bathroom odors. This kind of odor tends to linger longer than we would like it to and is unavoidable. There are ways to address it though.
You could use the good ol' matchbox method where you leave a box of matches in your bathroom and strike one after your duties are finished. The sulfur dioxide from the match masks the smell of any poo odors. I also keep a candle in there to help.
A more modern and more pleasant smelling odor eliminator is to use poo spray. This poo spray is one of the most popular products on amazon because it really works to eliminate the smell of odors caused by toilet bowl duties. Simply spray before you go and it'll mask all odors, plain and simple! Plus, it's made of all natural ingredients, like essential oils, and doesn't use any harsh chemicals. If you are like me, you can learn how to DIY just about anything and making your own Poo Spray is a snap with just a couple of ingredients. So if you want to try it out first to see if your family likes it, make a batch and spray away!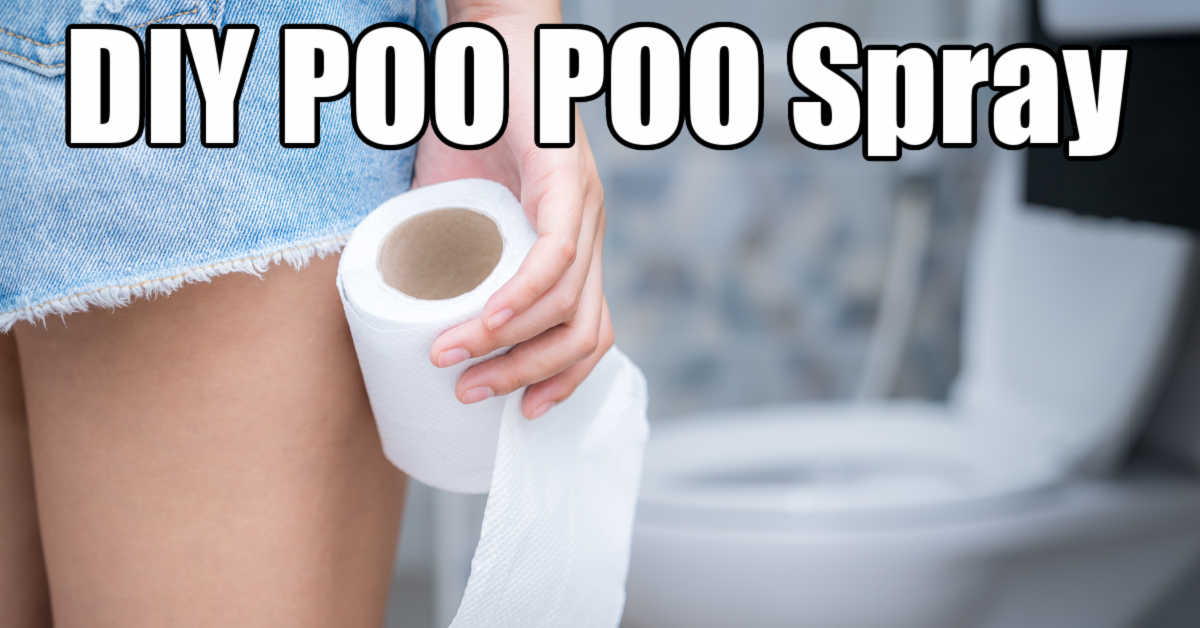 Proper Ventilation
Proper ventilation in your bathroom is one of the key components for avoiding stagnant mildew smells. If you have windows in your bathroom, try to open them as much as possible to allow for some fresh air to flow through. Many bathrooms have exhaust fans with a timer which are helpful to run after a shower to help eliminate moisture from condensing.
Bathroom Cleaning Day
Life is busy, so mundane things like bathroom cleaning tend to get neglected, but that leads to smelly outcomes. The best way to keep your bathroom deep cleaned and bacteria/odor free is to schedule one day per month on your calendar where you set aside 20-30 minutes of time to give all the surfaces of your bathroom a deep scrub. Keep the cleaning supplies stored in your bathroom so that when the day comes all you need to do is simply step inside and scrub away. If you don't have a cleaning routine yet, you can start here with a free Weekly Cleaning Printable for gentle reminders to yourself.
Clean Drains
Cleaning your drain regularly is a necessity for keeping bad bathroom odors at bay. Make sure your shower drain is secured with a good quality hair-catcher to make your life easier, as it helps keep drain build-up to a minimum by catching hairs and larger particles before they make their way into your pipes. Once a month, deodorize drains by pouring a solution of baking soda and water down your shower and sink drains. This helps neutralize any odors caused by moisture and any other organic matter collecting down there. You can see our Homemade Natural Drain Cleaners where we use those same natural products over and over again to clean naturally.
Dry Things Quickly
We know the unpleasant smell of mildewy towels all too well. Damp towels and bathmats, shower curtains, and even drywall can harbor bacteria growth and lead to sour, potentially unhealthy smells. When you get out of a hot shower, the steam causes condensation to collect on all of the surrounding surfaces, and your bath mat likely gets soaked. To prevent mildew and bacteria growth, wipe down any surfaces as often as possible, and hang wet bath mats so that they have the chance to properly dry. Consider investing in a small dehumidifier for your bathroom as this also helps prevent any bacteria buildup caused by stagnant moisture and helps keep the space smelling fresh. Make sure any wet towels are hung and are not left on the floor in a bundle. If you find that you still have mildew smelling towels, here are all the tips and tricks to get that nasty smell out!
Happy-Smelling Bathroom
Hopefully these simple tips and tricks guide you to an all-around better smelling bathroom in no time. A combination of at least a few of these is a powerful and effective way to eliminate most day-to-day contributors of bathroom odors.
Related Cleaning Ideas