This post may have affiliate links, which means I may receive commissions if you choose to purchase through links I provide (at no extra cost to you). Read More

Today we'll teach you how to make two types of DIY Disinfecting Wipes that are so easy, you may not go back to the store bought version. One version is a disposable wipe that uses paper towels and the other is a reusable version that uses cloth wipes which get washed and then reused. Both options use the same liquid sanitizing solution and storage method.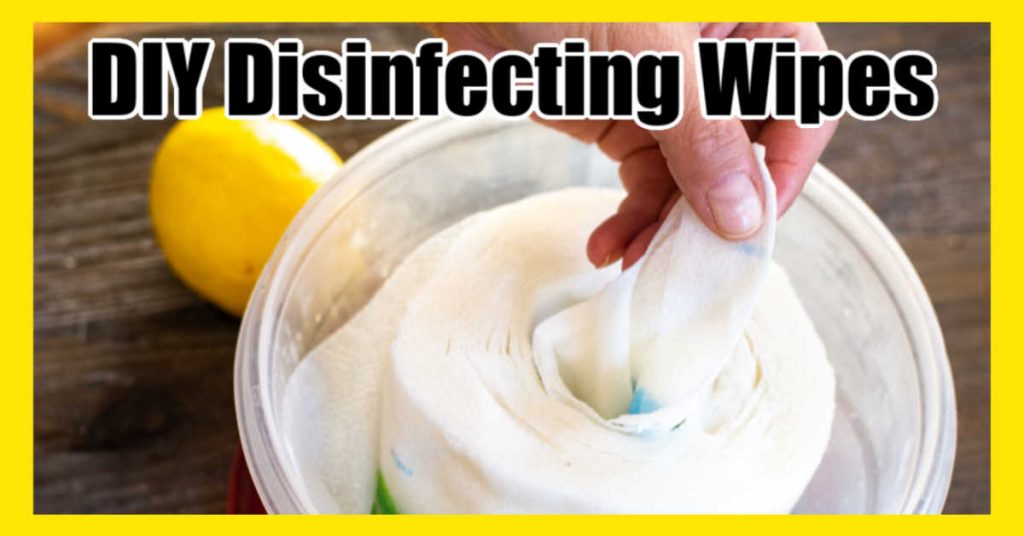 Let's just face it, using pre-moistened cleaning wipes is sometimes much easier and more convenient than using the good ol' spray-and-wipe-down technique with bottled cleaners.
Conventional store-bought Clorox or Lysol wipes are known for their ease-of-use and effectiveness at killing germs and bacteria, but they contain all the harsh chemicals we want to avoid when making the switch to natural cleaners.
These wipes only contain four ingredients and are super easy to make, plus they're more environmentally friendly than their store-bought versions and very inexpensive. Hidden bonus, most of the ingredients you already have in your cabinet right now! Let's take a deeper look into how they work and how to make them!
Benefits of Making Your Own DIY Disinfecting Wipes
There are many reasons to make your own cleaning products. They are better for your health, the environment, and your wallet. Here's a few of the main benefits by making your own disinfecting wipes instead of buying them at the store.
Produce Less Waste
Store bought wipes come in single use plastic containers and the wipes are made of synthetic fibers that don't biodegrade. Making DIY wipes means that you'll cut back on plastic use over time since your wipes will be stored in a reusable glass container. The "wipes" we use in this recipe are either a cloth that gets reused, or paper towels. Paper towels take two weeks to decompose, so they are much more environmentally-friendly than synthetic cleaning wipes.
No Harsh Chemicals
These DIY disinfectant wipes don't use any toxic ingredients like their harsher, store-bought alternatives. Simple, natural ingredients are used to make these, which means they are much better for you and your family's health.
I always worry about the long term impacts of using store-bought chemical cleaners. It seems like new studies find problems every other week, and I'd prefer not to introduce those to my home if I don't have to.
Just as Effective at Sanitizing as Store Bought Brands
Even though these DIY wipes don't contain any harsh chemicals, they are still mega-effective at combating germs and bacteria. They use alcohol combined with hydrogen peroxide and essential oils to sanitize whatever they cross paths with.
Cost Effective Homemade Wipes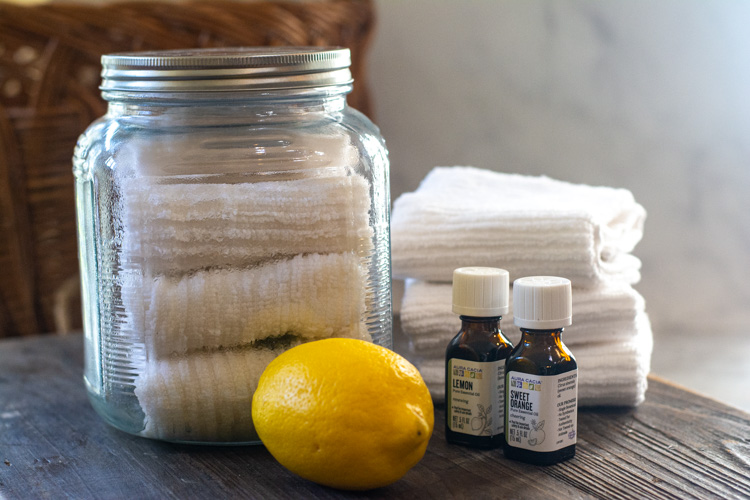 Store-bought disinfecting wipes aren't cheap. Plus, you tend to use quite a few per cleaning session since they get covered in grime and dust. So they run out quickly depending on how often you use them. These homemade wipes are made from inexpensive (yet powerful) ingredients and materials.
The main components of this recipe are: paper towels, hydrogen peroxide, and rubbing alcohol. All of these can be purchased for around $1 each at your nearby grocery store. The essential oils are slightly pricier but since they are concentrated, a little bit goes a long way and the bottles tend to last quite a few months or more. If you don't have essential oils on hand, pure lemon juice can be used instead, but we'll get more into that later on.
Using lemon juice cuts down on the overall cost even more. We've found that these DIY disinfecting wipes cost around $2.50 to make per batch and they should last between 2 weeks to a month or longer (depending on how often you use them).
How Do DIY Wipes Kill Germs and Bacteria?
The main active ingredient in these disinfecting wipes is alcohol, which is well known for its role as a powerful sanitizer. Either isopropyl alcohol or ethyl alcohols can be used for these wipes. Just make sure that whatever type of alcohol you use is at a solution between 60%-95% for optimal effectiveness.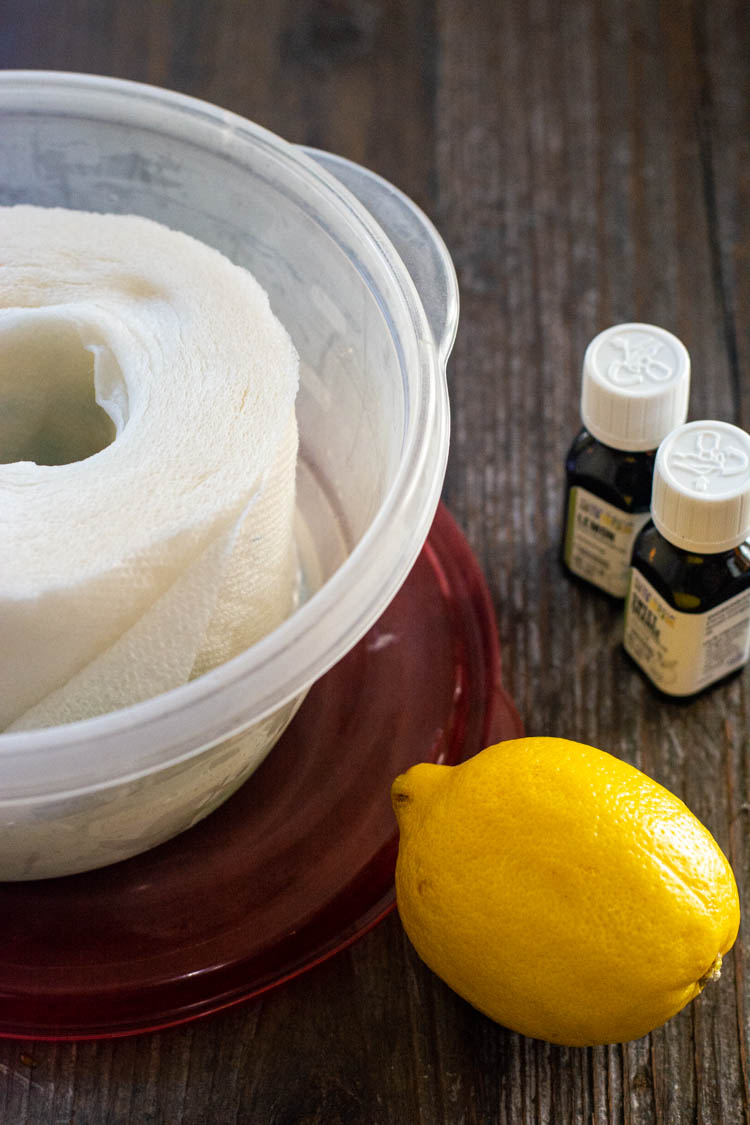 Hydrogen peroxide is also a powerful agent for killing germs, viruses, and bacteria, so when it is used in combination with alcohol, it is almost guaranteed that nothing these wipes touch will be left unsanitized. The CDC discusses this in much more detail if you want to read the science behind this.
Many essential oils are known for their antiviral, antiseptic, and anti-bacterial properties. We use essential oils in this recipe mainly for the lovely scent they add to the wipes, but also to enhance their disinfecting capabilities. Lemon juice can be used in place of essential oils as an option as well, which contains citric acid and has antibacterial properties.
Essential Oils or Lemon juice are optional additives. Most of my friends love the scents, but they can be an irritant for people with sensitivities. Try them out and see if it works for you! If it doesn't then keep them out of the recipe next time.
What Kind Of Essential Oils Should Be Used?
Essential oils are versatile powerhouses. Not only do they smell wonderful and natural, but they offer a slew of therapeutic and medicinal benefits. When using essential oils for homemade cleaning products, always make sure that you are using high-quality, pure, and ideally organic oils. The essential oils used in this recipe are flexible because you can really add whatever essential oils you like according to the scent they offer or their disinfecting properties.
Great Smelling Oils
Here are some of the best essential oils known for their pleasing, clean scent:
Lavender
Orange

Citrus

Jasmine
Ylang Ylang
Chamomile
Rose
Powerful Oils
Here are the oils reputed for their antiviral and anti-bacterial properties:
Tea tree
Peppermint
Lemon
Clove
Thieves blend
Rosemary
Cinnamon
How To Use
These wipes are versatile and can be used on any hard surfaces that get touched often and need to be sanitized. Be careful when using these wipes on wood since they contain hydrogen peroxide which is a lightening agent that could potentially impact the color of wood after long term use. Most commercial bleaching agents use a concentrated hydrogen peroxide that is significantly more powerful than the version you will use, though. All other hard surfaces should be safe to use them on. These are some of the most touched and germy surfaces that these wipes should be used for:
Doorknobs
Fridge handles
Bathroom sink handles
Oven knobs
Seatbelts
Remotes
Buttons on televisions and other devices that get touched often
Computer keyboards
Phones
Car steering wheel
Kids toys
Toilet seats
For the paper towel version, simply pull the wipes out one by one starting from the center and use as needed on any hard surface.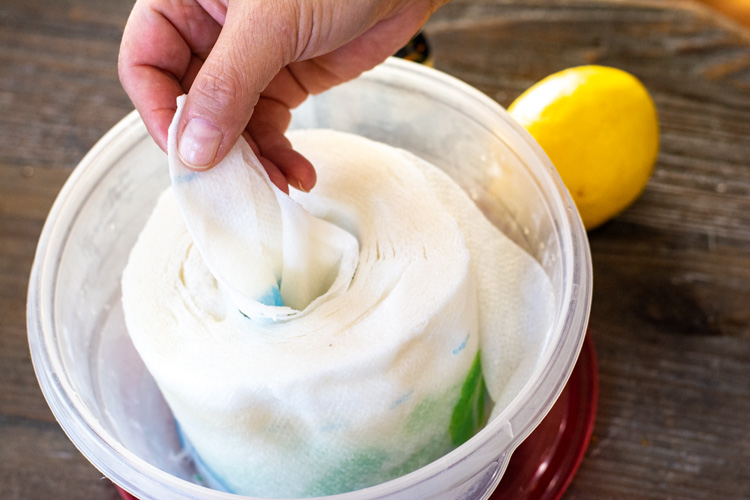 For the reusable cloth wipes, use one at a time to sanitize any surfaces that require cleaning. After you have used a wipe, throw it in the washing machine before putting it back into the jar. Each cloth wipe will tend to last quite a bit longer than a paper towel wipe, meaning that you'll get more use out of each cloth wipe. Since the cloth wipes will soak up quite a bit of the liquid cleaning solution, you'll have to refill as you use it or whenever you see that the liquid is running low.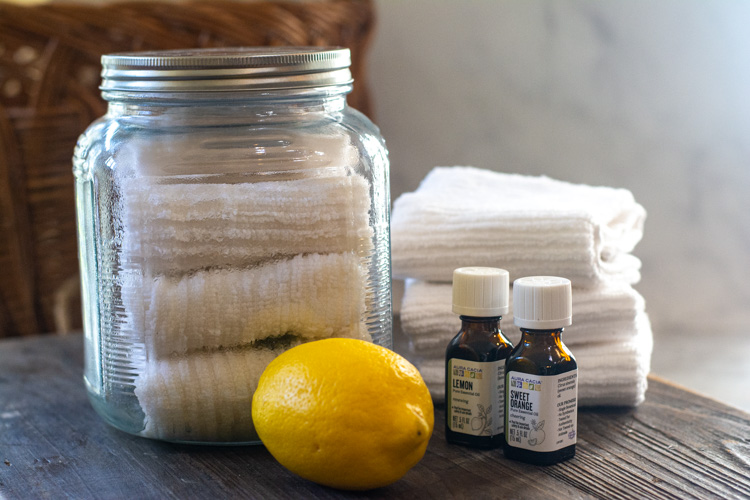 Do NOT use these as baby wipes, as they are much too harsh due to the rubbing alcohol. They can dry or irritate skin if used as baby wipes. They are safe, however, to use while you are cleaning with them.
Related Posts
How to Make Homemade DIY Disinfecting Wipes
This recipe gives you the choice of either making disposable, decomposable disinfecting wipes with paper towels or reusable wipes with cleaning rags. Regardless of which option you choose to do, both of these DIY wipes work fantastically well for sanitizing a number of hard surfaces.
Equipment
Bowl to Mix the Ingredients

Glass Jar with Lid, Wide Enough for Paper Towels
Materials
Paper Towels or Reusable Cloths
1

roll

Paper Towels

cut in half

10

pieces

Reusable Cleaning Cloth

rags
Ingredients for the Disinfecting Liquid
¾

cup

Warm Water

1 ½

tbsp

Hydrogen Peroxide

2

cups

Alcohol

isopropyl or ethanol (Everclear)

20

drops

Essential Oils

optional

2

tbsp

Lemon Juice

optional
Instructions
First decide whether you will make disposable DIY wipes or reusable ones. The only difference is that the disposable recipe uses paper towels and the reusable recipe uses cloth rags that you will wash and reuse instead of throw away.

Once you've gathered all of the ingredients and materials, place all of the liquid ingredients into a small bowl and combine them thoroughly.
Paper Towels as Disinfecting Wipes
If you are using paper towels as your wipes, you will need to use a very sharp knife to cut the roll in half (cutting it to be half the height it started with), then place the half-size roll upright into the glass container. If you are using reusable rags as your wipes, just place them one on top of the other at the bottom of the glass container.
Reusable Cloth Rags as Disinfecting Wipes
You'll want to use a smaller glass container if you are making cloth wipes than if you are making paper towel wipes since they'll take up less space and using a smaller container will help ensure that the cloths get thoroughly saturated in the sanitizing liquid.

Next, simply pour the liquid solution over the upright roll of paper towels or on top of the cloths, filling the container with the liquid. This liquid solution will moisten the cardboard tube in the center of the paper towel roll making it easy to pull out, so be sure to pull it out once it's thoroughly saturated in the liquid.

Always keep the glass container sealed with a tight fitting lid to keep the wipes wet and to avoid letting them dry out.