This post may have affiliate links, which means I may receive commissions if you choose to purchase through links I provide (at no extra cost to you). Read More
This three-ingredient DIY Disinfecting Cleaner is the simplest household cleaning spray to make and it's perfect to use as your go-to natural cleaning product. It uses vinegar as the main active ingredient plus essential oils or lemon juice to mask the vinegary scent with something more refreshing and pleasant smelling. This solution is versatile and works on a variety of surfaces and is a great spray to keep on hand for everyday spot cleaning.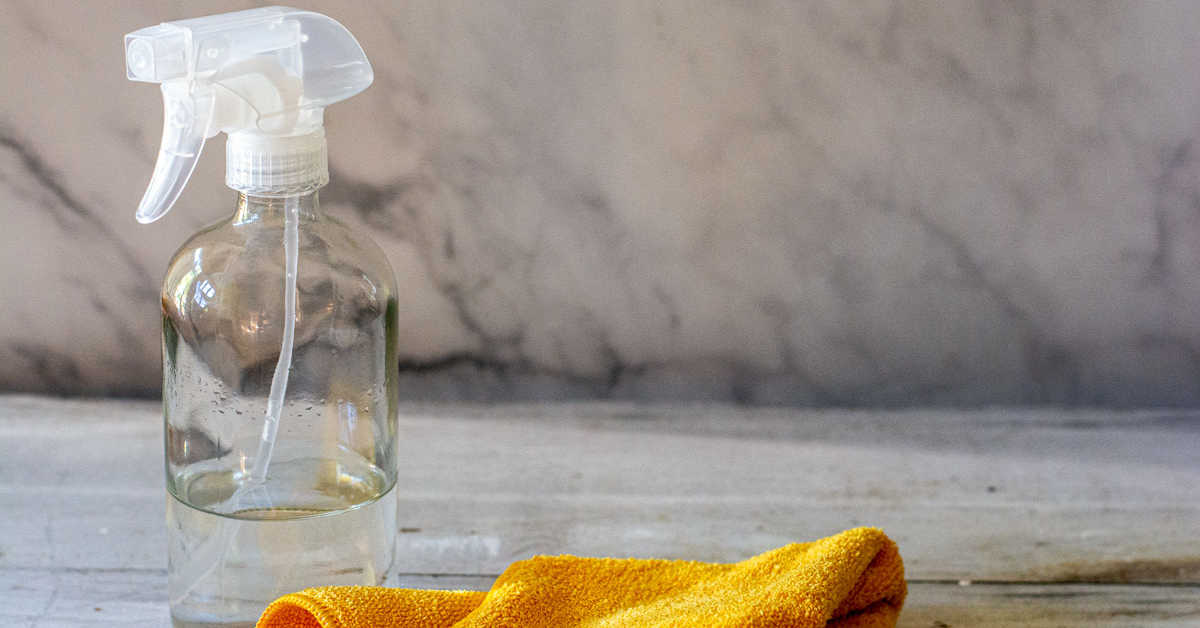 🚿 Why this Works
Simple – This uses just three ingredients that are commonly used throughout the home.
Healthy – There are none of the preservatives commonly found in store-bought cleaners. It is simple, clean, and you know exactly what goes in it.
🧹 Ingredients
This recipe uses just three simple ingredients:
Warm water
White vinegar
A choice of essential oils -OR- lemon juice (plus the rind)
You'll notice that we don't specify which type of essential oils are used and that's because it's really up to you!
Note: Some essential oils do offer added cleaning power and anti-bacterial properties such as: lemon, thieves, purification, eucalyptus, rosemary, clove, cinnamon, peppermint. Other essential oils just offer a pleasant smell that will make your home smell great: orange, chamomile, geranium, lavender, grapefruit. It's up to you which ones to add to this all-purpose cleaner!
🧽 Equipment
Glass Spray Bottles – I always keep a few of these on hand. They are empty and come with a screw top and nozzle for easy spraying. I do recommend using labels so you don't forget what is in it. We have some free printable labels for you to use. In a pinch, write it down on a piece of masking tape.
Funnel – I use this set of funnels for a lot! I always seem to have to refill bottles, and these bright colors help me keep tabs on where they are. I especially love that they collapse down, and don't take up a lot of space.
📝 Instructions
Step One: Add the water, vinegar and essential oil to a glass measuring bowl.
Step Two: Mix well. Use a wooden spoon.
Step Three: Carefully pour the mixture into your glass spray bottle.
🧽 Benefits
This spray is stored in a reusable spray bottle and should be kept in an easily reachable place to be used for everyday cleaning needs. We even recommend making multiple bottles to keep in different rooms around the house for convenience. It also smells great, so it kind of doubles as an air freshener.
This all-natural cleaning spray disinfects and cleans a wide variety of surfaces around the house. It is multi-purpose because vinegar can be used for so many applications, including as an air freshener and a stain remover, but we'll get more into that later.
Simplifying our cleaning products and aiming only to use natural (and ideally homemade) cleaners whenever possible helps to improve the health of our families. Using natural and simple cleaners also protects the environment since chemical cleaners disrupt local natural environments and ecosystems when they are flushed down our toilets and sinks. Plus, you'll be cutting down on your plastic use by refilling your spray bottle with this instead of throwing away a store-bought container and rebuying a new one each time it runs out.
💰 Cost Per Batch
This cleaner is not only powerful and effective for cleaning everyday spills, but it is also super cheap to make! Each batch costs less than a dollar to put together which saves big bucks. Stay with me here, there's some math but it breaks down so easy and I'd love for you to see how much money you are saving!
Each bottle of 15 ml essential oil is 250 drops. So take the amount you paid for the essential oil and divide by 250. Then multiply it by the number of drops you use.
Example:
1 Bottle of Essential Oil cost $11
$11/250 drops of oil = $0.044 per drop
For this example we want to know how much 20 drops will cost:
$0.044 x 20 drops= $0.88 for 20 drops of my $11 bottle of essential oil
For the distilled vinegar, we will calculate it the same way. Walmart's Distilled Vinegar sells for $1.92 per GALLON. We have to do more math to break it down to find out how much ¼ cup is going to be.
$1.92 divided by 16 cups (there are 16 cups in one gallon) = $0.12 cents PER CUP
Then take the $0.12 and divide that by 4 (to get the ¼ cup price) = $0.03 for ¼ cup of my $1.92 bottle of Walmart's Distilled Vinegar
We now know for my example the amount is:
Essential oils $0.88
¼ Cup Vinegar $ 0.03
Total for One Batch of Homemade Disinfectant Spray is $0.92
🚰 How This Cleaner Works
Vinegar is a mild acid and its main active chemical compound is acetic acid which works to dissolve spills and messes by breaking them down to be easily cleanable. Its acidic properties are what make it an effective cleaner and it does a fantastic job of cleaning up sticky spills, grimy surfaces, and more. The essential oils (or lemon juice, depending on how you make this recipe) give it an added fresh scent as well as some extra antibacterial properties.
🦠 Does Vinegar Kill Germs And Bacteria?
While vinegar is great for tackling grime, residue, sticky messes, dirt, dust, and the like, it is not as effective as alcohol or bleach cleaners at killing viruses and bacteria. It does kill some, but it is a much healthier alternative than using store bought chemical-cleaners in the long run. If you are looking for a more Heavy-Duty DIY Disinfectant Spray, then check out our other post that uses disinfecting agents like hydrogen peroxide and rubbing alcohol for that extra punch.
🧫 Cleaner Uses
This mild, acidic cleaner can be used for a variety of applications around the house. You'll be amazed at how multi-purpose this cleaner is and, after trying it out, you'll realize how many other different cleaning products can be replaced by this. This is gentle and safe to use on just about any surface imaginable. These are some of the best ways to use it in your home:
Use it as a window cleaner, it will remove dirt and spots from glass with ease.
Use as a streak-free mirror cleaner and buff with a lint-free or microfiber cloth.
This spray works as a natural air freshener because vinegar is a natural deodorizer (plus the added scent from the essential oils or lemon juice will give the air an extra fresh scent).
Tackle caked-on messes and spills inside of microwaves.
Disinfect cutting boards and countertops.
Remove stains and odors from countertops.
Clean blinds of dirt, dust, and built-up grime.
Use this spray to clean your entire bathroom, including sinks and soap scum-lined showers.
Remove stains and stickers (including those pesky, stubborn bumper stickers on cars!)
Unclog your sink by pouring a little of the solution down the drain followed by a tablespoon of baking soda. After it bubbles for a minute, let hot water run down the sink until the bubbles are all gone.
Remove pet odors on furniture, rugs, and upholstery with a light mist of this spray on smelly surfaces. Dab any excess moisture away with a microfiber cloth.
Get kitchen appliances sparkling clean with a quick wipe down of this stuff.
Remove water spots from silverware and glassware with a spray and wipe of this solution.
Tackle shower and bathtub film by spraying this solution and letting it sit on the grime for 5 minutes before wiping it away.
Disinfect kids toys. For larger toys, spray each toy with this solution and let it sit for a minute before wiping it off. For smaller toys, soak toys in a bucket of this solution for 15 minutes, then rinse with water and let the toys air dry.
Spray fruits and vegetables with this solution then rinse off. This removes all pesticides and chemicals that were sprayed onto the produce.
Related Posts
Three Ingredient Disinfectant Spray
This super simple spray will save you money and eliminate harmful chemicals from your house. It is extremely easy to make in just minutes.
Materials
1

cup

Water

¼

cup

Distilled White Vinegar

20

drops

Essential Oils

optional

1

tbsp

Lemon Juice

include the rind
Instructions
Combine the vinegar and water.

Add drops of essential oil.

Pour into a glass reusable spray bottle.

Shake well before each use, as the oils may separate.

To use, shake and spray on a hard surface. Then wipe up with a clean microfiber cloth or paper towel.
Notes
Be careful never to use this spray in combination with bleach, around bleach, or where you've recently used a bleach cleaner. When vinegar combines with bleach it creates a toxic chlorine gas that is extremely dangerous. Be mindful of this, but otherwise, this spray is completely natural and safe to use!