This post may have affiliate links, which means I may receive commissions if you choose to purchase through links I provide (at no extra cost to you). Read More
Cleaning your windows doesn't mean that you have to fill your house full of chemicals and toxins. In this post, you'll find out how to make and use Homemade Natural Glass Cleaner. Just think about the fact that you'll never have to worry about heading to the store again to buy glass cleaner that contains chemicals you have never heard of! Not only are these cleaners natural, they will save you time and money!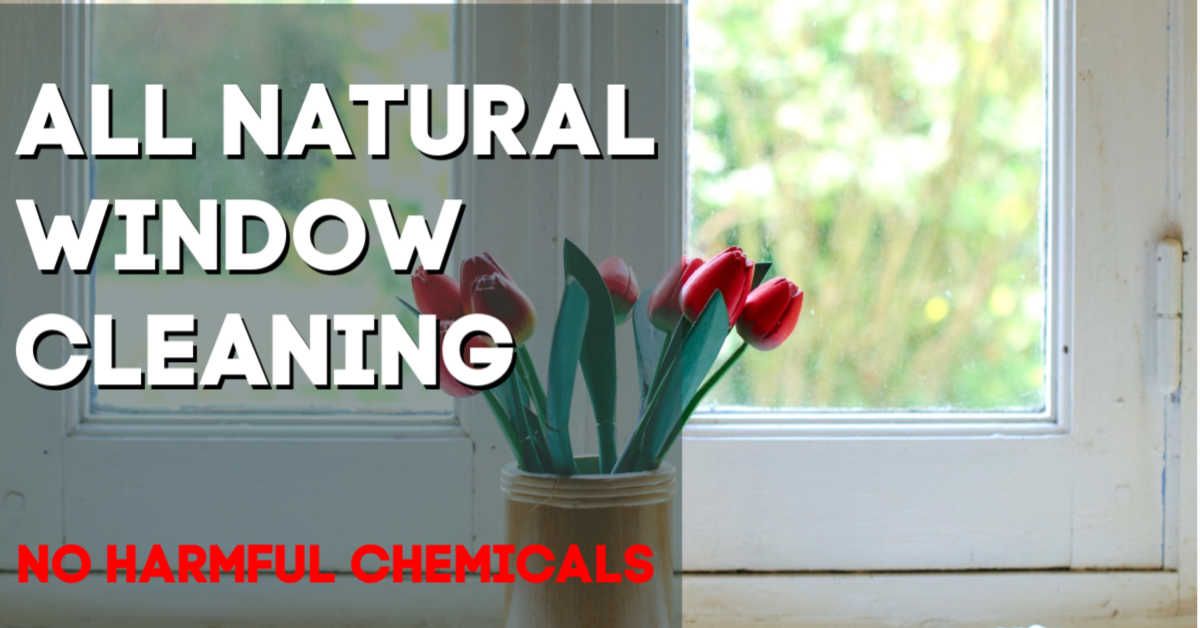 I think we can all agree that cleaning isn't fun. What makes it REALLY scary is cleaning with chemicals from the store puts us in a position where we might inhale and breathe toxins. Rest easy knowing that you can make your own window cleaner spray and not have to worry about a thing.
Why Use a Homemade Glass Cleaner?
Besides being simple, it saves money and eliminates harmful chemicals. Using a vinegar based glass cleaner is also a breeze to clean with and doesn't leave streaks on your windows, either.
It's great that we can use natural cleaning ingredients without introducing respiratory issues in our homes.
Tools You Need For The Best Homemade Glass Cleaner
The great part about making your own DIY glass cleaner is that you really don't need many tools. What you'll need to get started is:
Glass Spray Bottle – Always keep a few extras in the home. I use them all the time.
Microfiber Cloth – This is a must-have for cleaning. The microfibers don't shed and keep an immaculately clean surface when you are done.
Squeegee – You usually think of these for the car, but you should keep one in your home cleaning kit as well.
That's it. Those are the only tools that you're really going to need.
Common Ingredients for Natural Glass Cleaners
Vinegar, distilled – Vinegar does a great job of breaking down film and grime quickly and it doesn't leave behind any streaks. Most of us have this in our house already.
Rubbing Alcohol – Another super simple ingredient that doesn't leave behind streaks or scents.
Baking Soda – Due to the texture of the baking soda, it does a great job of getting rid of dirt. I rarely use this unless the glass is REALLY dirty.
Corn Starch – Corn starch is abrasive and used as a way to scrub your windows without the worry of scratching them. Again, I only use this if the windows are filthy.
Essential Oils – This is completely optional but can cut down the smell of vinegar. I don't mind the vinegar smell, and it dissipates quickly.
Distilled or Filtered Water – This is used with abrasives and helps to leave a streak-free shine.
Liquid Dish Soap – Dish soap is certain to leave your windows sparkly clean.
DIY Glass Cleaning Tip
I don't use ammonia, as it can cause respiratory and skin irritation issues. While it is effective in cleaning, it isn't necessary, and I'd prefer to use less problematic chemicals if possible.
How To Clean Windows and Glass Surfaces
Cleaning your windows isn't hard but there are a few steps that you should know.
First, use a reusable microfiber cloth. This won't leave any type of lint and is great because you can use it over and over again.
Note: If you have newspapers, those are great too but most people don't have a ton of newspapers handy anymore. Don't use paper towels, though. Those leave a lot of lint on the glass.
Use your DIY window cleaner and spray down your window.
Use the microfiber cloth to wipe down the window and soak up the cleaner. I usually use a squeegee to remove the excess spray and any remaining dirt.
Let air dry and watch it sparkle.
🖨️ Free Adhesive Labels For Your Spray Bottle
If you make your own glass cleaner at home, it's important to make sure that you label the spray bottles. Leave it unlabeled and you are just asking for trouble.
The good news? You can easily grab these and print off these labels to use any time you need them!
Related Posts
Natural Glass Cleaning Recipes
Easy, all-natural recipes for DIY glass cleaners. Save money and keep harmful chemicals out of your home.
Materials
Rubbing Alcohol

White Vinegar

Distilled

Cornstarch

Essential Oil
Instructions
Natural Cleaner
Combine one cup of rubbing alcohol, one cup of water and two tbsp of white vinegar in the glass spray bottle.

Shake the spray bottle to combine the ingredients.

To use, spray on the window or glass and squeegee off.

If there are spots that require scrubbing, spray and use a microfiber cloth to scrub it off. You may have to let the natural cleaner sit for a few minutes to soften the dirt.
Homemade Glass Cleaner
Combine two cups of distilled water with ⅓ cup of white vinegar, ⅓ cup of rubbing alcohol, and two tbsp of cornstarch.

Shake the glass spray bottle vigorously to combine the ingredients.

Before use, shake the bottle again.

Spray on the glass and use a microfiber cloth to remove any dirt.

Use a squeegee to remove any remaining cleaner.

Note: The corn starch may leave a residue on the glass if you don't remove all of it. If that happens, wet it again and clean it off.
Vinegar and Essential Oil Glass Cleaner
Combine equal parts of distilled water with white vinegar in a glass spray bottle.

Add 5-15 drops of your favorite essential oil. Tea Tree, Lavender, and Sweet Orange have antifungal and antibacterial properties and leave a great smell!

Follow the same instructions as above for cleaning the glass.
There you have it. Some of the best DIY glass cleaning tips that you need to know. With these simple tips, your windows will be clean and streak-free in no time at all.
Do you have any glass cleaning tips to share?