This post may have affiliate links, which means I may receive commissions if you choose to purchase through links I provide (at no extra cost to you). Read More
This is a powerful DIY cleaning spray recipe that will replace many of the harsh store-bought chemical cleaners in your home.
Kick your store-bought heavy-duty cleaning sprays to the curb and bookmark this DIY all-natural heavy duty cleaning spray recipe instead!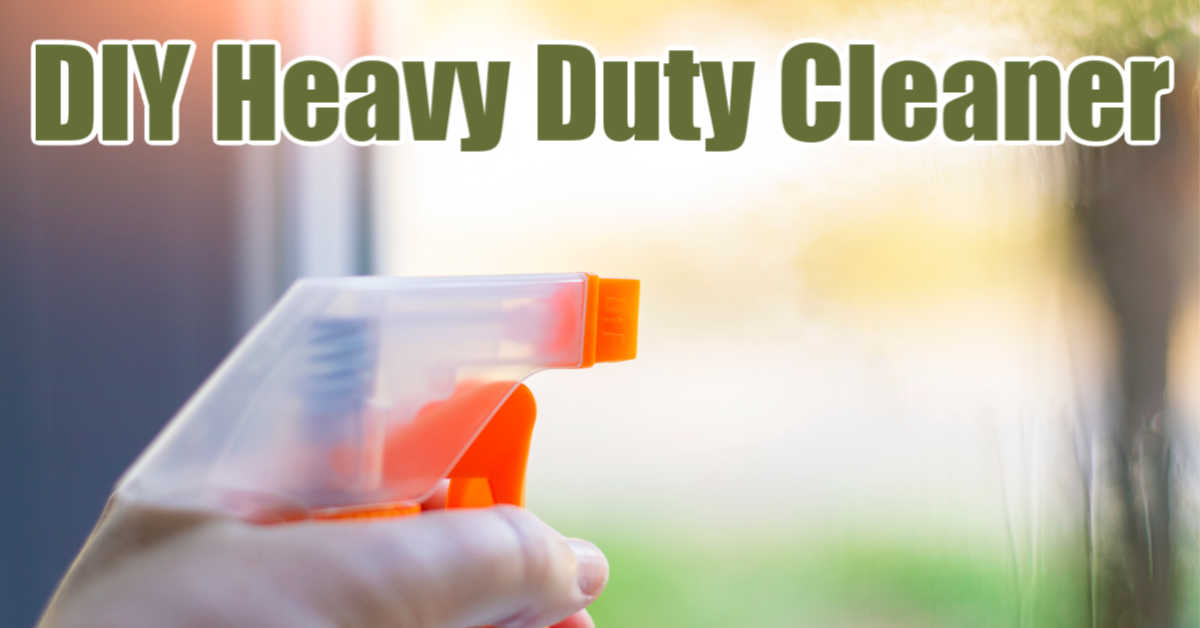 We've posted a few different DIY disinfectant recipes on here, including DIY Disinfecting Wipes and a DIY Disinfecting Bathroom Cleaning Spray, but this one is for those extra heavy-duty messes that require a little extra punch.
Think of this recipe as a cleaner, degreaser, disinfectant, and grime-tackler all in one bottle. It is great for a multitude of applications, including the not-so-fun ones, like pet urine accidents, sticky spills, deep cleaning jobs, and the like.
As versatile and as heavy-duty as it is, it is still quite simple to make and only requires a few ingredients. It uses four active ingredients and a couple of other natural disinfectant-enhancer ingredients which is what makes it extra effective. Here's how it works and how it's made.
What Makes This All-Purpose Cleaner Better Than Store-Bought Heavy-Duty Cleaners?
Store-bought heavy-duty cleaners get their cleaning capabilities from a stew of chemicals that give them the power to tackle tough cleaning jobs. Heavy-duty cleaners can be compared to all-purpose cleaning products, but the difference is that they are more concentrated and less diluted, amping their cleaning power to the next level.
Ingredients Found At Home
This DIY Heavy-Duty Disinfectant Spray uses simple ingredients which offer a ton of cleaning power when combined together. The "active" ingredients in this spray are Borax, hydrogen peroxide, baking soda, dish soap, and rubbing alcohol. The "inactive" ingredients are essential oils and hot water. The essential oils, however, do offer some disinfecting, anti-bacterial, and anti-viral properties which helps to further boost the power of this cleaner.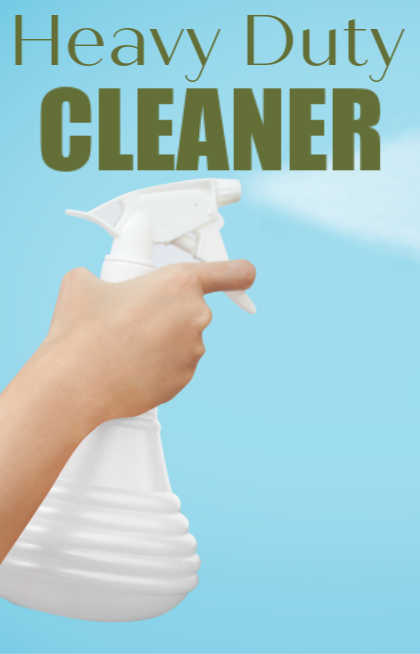 Chances are high that you already have at least a few of the ingredients for this recipe lying around your house in your bathroom cupboards or cleaning cabinets. If not, the ingredients are easy to find and very affordable. Keep extras of each ingredient on hand so that you can whip up a new batch whenever necessary.
It only takes a few minutes to make a bottle of this cleaner which will save you time since you won't have to run to the store each time you need one. You'll also save money in the long-run since this cleaner only costs around a dollar per batch. Making your own cleaning products eliminates single-use plastics since you'll be storing this in a reusable glass container, and since you won't be pouring chemicals down the sink and toilet when you clean with these, you'll be doing the environment a favor too!
How Does It Work?
Each of the "active" ingredients in this recipe offers a different cleaning and disinfecting property, and when combined, this spray becomes a powerhouse for tackling grease, oil, grime, dirt, viruses, bacteria, and more. This spray uses:
Borax
Borax is known for its disinfecting properties and abrasive abilities to dissolve and kick grime.
Dish Soap
Dish soap breaks oil and grime down into smaller particles which, when mixed together with water and other liquids, helps to effectively dissolve and remove dirt altogether.
Rubbing Alcohol
Rubbing alcohol, or isopropyl alcohol, is widely used as a disinfectant and antiseptic agent. It kills bacteria and viruses that it comes into contact with, thus effectively sanitizing surfaces that it is used on. Use an alcohol solution between 65%-95% for the best results in this DIY spray.
Baking Soda
Baking soda is an abrasive and an odor neutralizer. Since it is highly alkaline, it eliminates odors (most odors are caused by acids) by coming into contact with them and neutralizing them.
Hydrogen Peroxide
Hydrogen peroxide is an incredibly powerful disinfectant that can kill even the most stubborn viruses and bacterias it comes into contact with. Use 3-6% hydrogen peroxide solution for this cleaning recipe for optimal results.
Oregano and Tea Tree Essential Oils
In this recipe we use two of the most powerful disinfectant essential oils known to combat viruses, germs, and bacteria: tea tree and oregano essential oils.
Both of these oils are known for their powerful disinfecting properties. Essential oils are super concentrated and potent, so it's important not to overdo it and to remember that a little bit goes a long way with these.
Also, whenever using essential oils, be sure that they are 100% pure and undiluted, and organic is always the best quality.
Warm Water
Warm water is used in this recipe as the carrier ingredient and to help dilute some of the stronger active ingredients. Tap water works just fine. Just make sure that it is warm water (not scalding hot) because that helps to break down and combine all of the ingredients.
Is Borax Healthy And Safe?
Many people get Borax confused with boric acid, but it is NOT the same thing! Borax is sodium borate and boric acid is hydrogen borate, so the chemical compounds are completely different.
While Borax is NOT safe for human consumption, it is a naturally occuring mineral used for many DIY cleaning product recipes. It is extremely alkaline which can make it an irritant when it is used undiluted. When it's diluted, however, it is considered by many to be safe to use for cleaning and becomes a gentle, yet powerful, addition in homemade cleaning products.
Sale
There are warnings that Borax is linked to eye irritation, skin irritation when used undiluted, and dangers associated with accidental ingestion of the substance.
While many people consider Borax safe for cleaning (myself included), it is a debated topic and I urge you to do your own research. If you decide that you aren't comfortable using Borax in your home, don't add it to this cleaning spray.
How This Heavy Duty Cleaning Spray Is Made
Before getting started, make sure that you have a reusable spray bottle on hand around 20 ounces in size. The size isn't too important though because you can adjust the recipe according to the size of your bottle by doubling or halving the ingredients. It's a good idea to use a hand-written label to identify this bottle as your "heavy-duty" disinfecting spray so that you can distinguish it amongst your other products. Since this recipe contains ingredients like rubbing alcohol and Borax, definitely keep it out of reach of small children.
Where To Use This Spray Around The House
This solution is safe for use on most hard surfaces. Since it does contain hydrogen peroxide which is a lightning agent you should avoid letting the solution sit too long on surfaces that you wouldn't want to be lightened, like on wood surfaces. This solution can be used to clean kitchens, bathrooms, bedrooms, and for deep cleaning jobs. Here are some more specific applications for this DIY heavy-duty cleaner: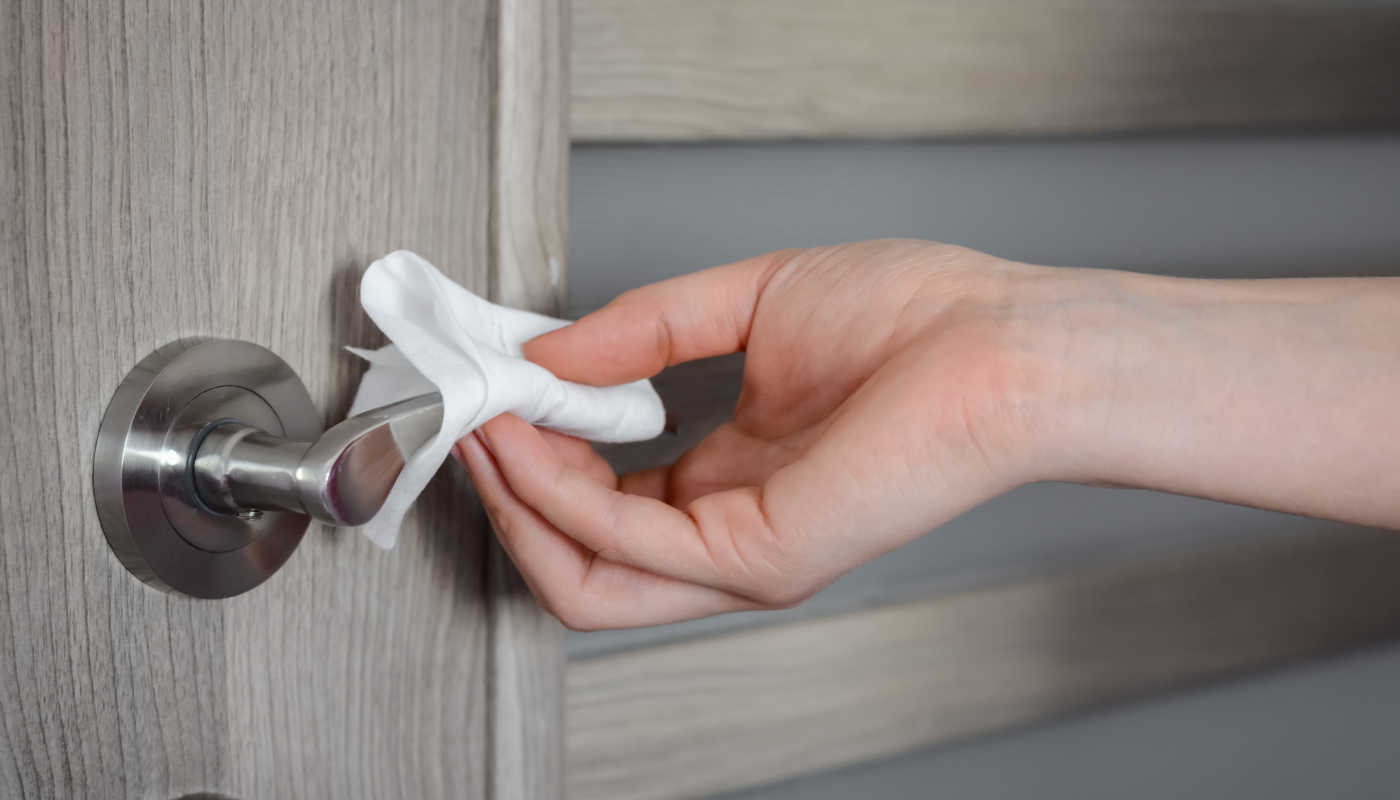 Disinfect kids toys and games.
Tackle mold stains and mildew.
Scrub soot residue from your fireplace.
Clean and disinfect cutting boards.
Disinfect toilets.
Clean sticky messes and spills.
Eliminate urine accidents, and vomit.
Clean caked grime on stove tops and ovens.
Disinfect kitchen surfaces like countertops, appliance knobs and handles, and sinks.
Clean tile floors and walls.
Clean baseboards.
Disinfect phones and keyboards.
Scrub high-touch areas like seat-belts and car door handles.
Disinfect doorknobs and mailboxes.
Related Articles
Homemade Heavy Duty Cleaning Spray
This is a powerful DIY cleaning spray recipe that will replace many of the harsh store-bought chemical cleaners in your home.
Ingredients
5

tbsp

Warm Water

1

tbsp

Borax

2

tbsp

Baking Soda

½

cup

Rubbing Alcohol

½

cup

Hydrogen Peroxide

1

tbsp

Dishwashing Soap

5

drops

Oregano Essential Oil

5

drops

Tea Tree Oil
Instructions
In a metal mixing bowl, mix all ingredients together and combine well with a whisk. The warm water should help the dish soap, baking soda, and borax powder dissolve together quickly.

Use a kitchen funnel to funnel the solution into your reusable or glass spray bottle. Shake well to combine all of the ingredients. That's all! Now it's ready to use.

Make sure that you always shake the bottle before each use because the oils will tend to separate after the bottle has sat still. For heavy duty cleaning jobs and for sticky spills and stubborn grime, spray the solution generously and allow it to sit for 5-10 minutes before wiping it away with a cleaning rag or scrub brush.
Wrap up
All households need a heavy-duty cleaning solution that can be easily whipped out at a moment's notice for those pesky, unexpected cleaning jobs that require a little extra cleaning power. Instead of tackling big messes with chemicals that harm the health of your family and the environment, opt for this all-natural, super simple DIY disinfecting spray to take care of your heavy-duty cleaning jobs! We hope you'll enjoy making and using this one.