This post may have affiliate links, which means I may receive commissions if you choose to purchase through links I provide (at no extra cost to you). Read More
As per usual, if there is the option to make it myself DIY style, then you can bet I will be making it! My newest little project (and obsession) are these super simple reusable DIY dryer sheets. They're helping me save time, money, and the environment.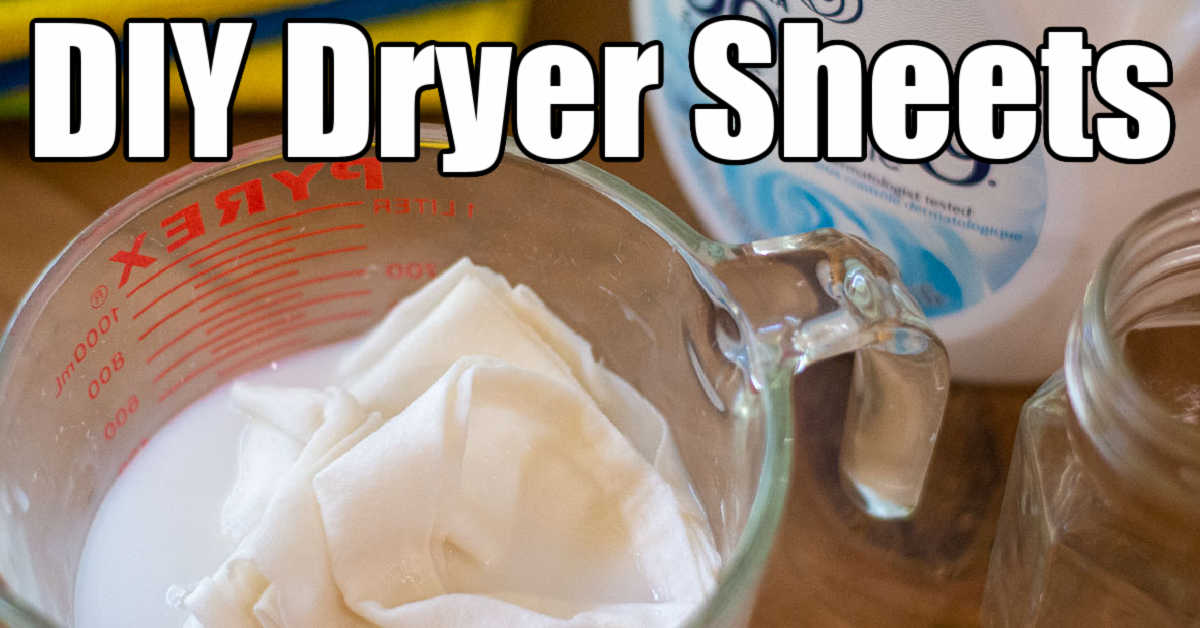 Plus, they're ultra easy to make. I've played around with quite a few recipes to find the ones I like best. Also, I love being able to choose the ingredients I use in them, as I can use my favorite natural essential oils to make my clothes smell clean and fresh.
🧺 Purpose
Just in case you aren't already on the dryer-sheet-train, and you're wondering if using dryer sheets is actually useful or worth it, they are! I highly recommend them if you enjoy ultra-fresh smelling clothes that don't have static cling when you remove them from the dryer.
Giving a pleasant scent to your laundry and removing static are the two main purposes of using dryer sheets. It is kind of annoying to dig through your laundry trying to find the thin, paper-like remnants of the dryer sheet that needs to be thrown away after each use (a step that is eliminated by making your own reusable dryer sheets). Plus, the store-bought dryer sheets are quite an expensive way to give your laundry a nice scent.
👩‍🏫 DIY Options
I've found dryer sheets I made at home to be significantly better than commercial ones for a variety of reasons. Not only are they much cheaper, costing just a fraction of the price of the store-bought ones, but they can also be made all-naturally, eliminating chemical and harsh ingredients. Plus, the reusable ones last much, much longer. There is no need to buy a new box every couple of weeks.
These are all of the main reasons why I love making my own:
DIY is cheaper than store-bought ones
Better for the environment
Last longer and are reusable
Can be made using all natural ingredients (store-bought dryer sheets contain chemicals)
They work just as well as commercial ones
They're fun and super quick to make
🧷 Cloth To Use
Before we get into the nitty-gritty, all these recipes require some sort of cloth which will act as your reusable sheet. Finding cloths to use is a great opportunity to recycle some old t-shirts you have lying around or some scrap pieces of fabric leftover from a sewing project. There is no need to go out and buy new cloths to use for these as I bet you have something lying around your house already that you can use.
Basically, any cotton or fleece cloth will do! You'll only need 4-5 pieces, and try to make sure they are all about the same size. These are the best options for cloths:
Squares cut from an old t-shirt
A couple of old washcloths that can be cut in half to make 4 pieces
Scrap cotton fabric pieces
Old dish towels or cloth napkins cut into smaller square pieces
An old pillowcase cut into smaller squares
I tried quite a few different ways of making reusable dryer sheets, and these are my three favorite recipes.
1. Handy Container of Natural Dryer Sheets
This one uses vinegar and essential oils. Don't worry about the vinegar causing the laundry to smell vinegary! The vinegar smell will disappear as the laundry dries and the essential oil scent will remain. This recipe involves pre-making 4-5 dryer sheets which are stored in a container which I recommend keeping right next to your dryer for easy access!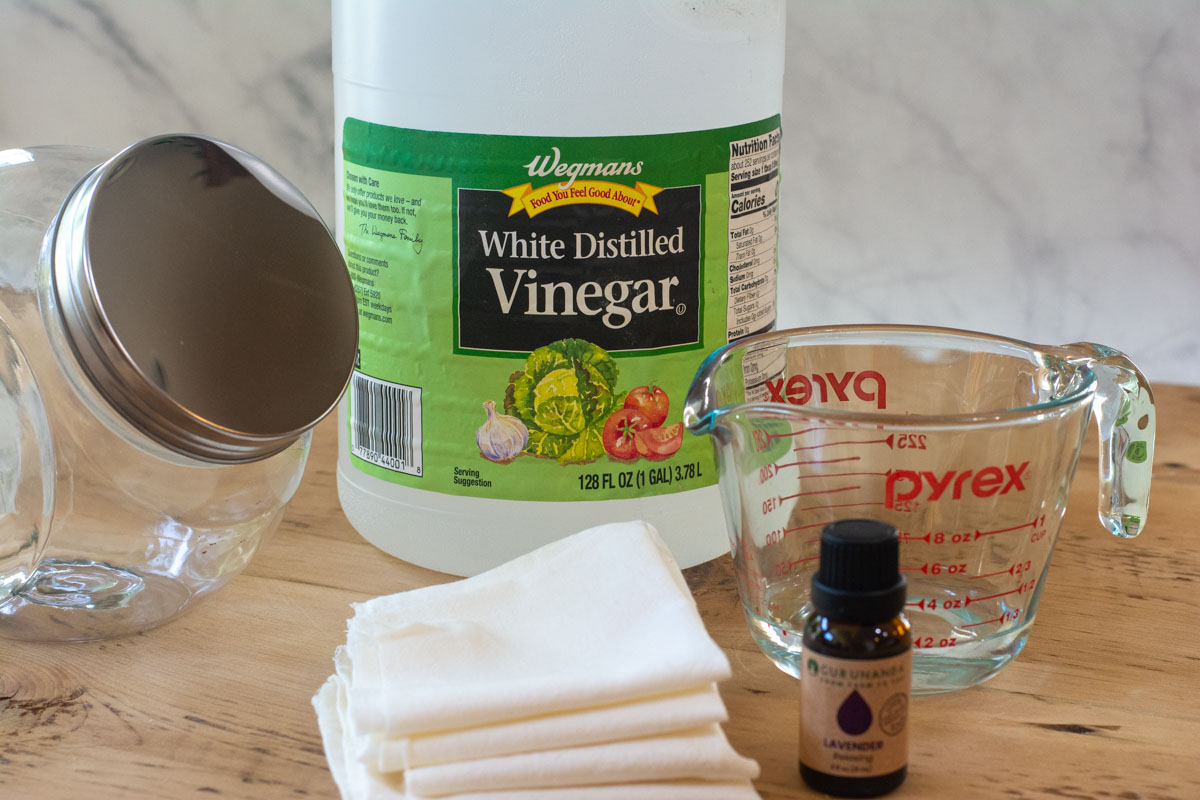 For this recipe you'll need;
4-5 pieces of thin cotton cloth material
A sealable container (a medium-sized glass mason jar with lid will work)
½ cup of vinegar
10 drops of essential oil of your choice (lemon, tea tree, citrus, or lavender are some of my faves!)
Instructions:
Pour the ½ cup of vinegar into the sealable container. Then add the 10 drops of essential oils.
Place the pieces of cloth material into the solution, swirling them around until they are all dampened.
Fold the moistened cloths and stack them in the jar or container to make it easier to grab them when you'll need them.
To use, remove one cloth from the container and squeeze out the excess moisture. Place it in the dryer and run as normal to freshen laundry.
2. On-The-Go Spray Bottle Recipe
Although this recipe uses similar ingredients as the one above, it uses a different method that some may find even more convenient. Instead of pre-making dryer sheets, this recipe involves pre-making a solution that can be sprayed onto a piece of cloth at a moment's notice and then thrown into the dryer.
Ingredients:
16 oz. reusable spray bottle
Reusable cloths
2 cups of white vinegar
20 drops of essential oils of your choosing
Instructions:
Fill the reusable bottle with the two cups of vinegar and essential oils. Give it a good shake.
Keep the spray bottle solution next to your dryer with a couple of folded up pieces of cloth nearby.
Whenever you need a dryer sheet, give a piece of cloth quite a few good sprays of the solution until its damp.
Place the cloth into the dryer to freshen your laundry.
3. Simple Two-Ingredient Dryer Sheets
This last recipe takes on a different approach. It uses just one ingredient: fabric softener. Please note that these dryer sheets can be made naturally simply by using an all natural fabric softener.
Ingredients:
2 cups of fabric softener
A container
6 pieces of cloth
Instructions:
Fill the container with two cups of fabric softener.
Soak the six pieces of cloth in fabric softener until saturated.
Remove the pieces of cloth and let the saturated cloths completely air dry, either on a drying rack or a line.
When the cloths are dried, fold them and keep near your dryer.
Use one of the reusable dryer sheets per load to freshen your laundry.
Fun bonus dryer tip:
Throw some wool balls into your dryer (along with your DIY reusable dryer sheets!) to help prevent static and tangling.
Related Articles