This post may have affiliate links, which means I may receive commissions if you choose to purchase through links I provide (at no extra cost to you). Read More
This Monthly Cleaning Checklist Printable keeps your cleaning schedule organized and on task. You won't be missing any area of your home when you are following along and checking off this list.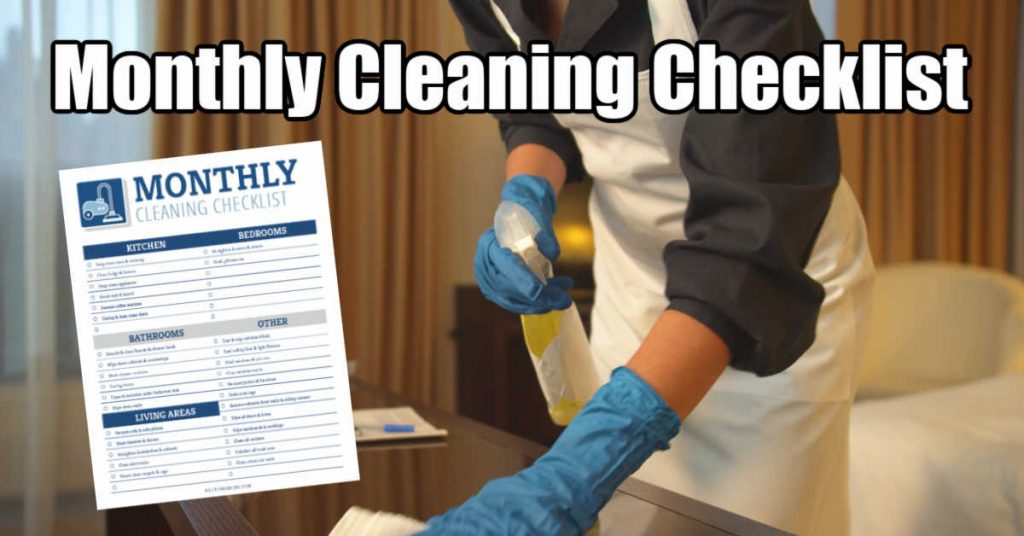 Cleaning checklists make cleaning and organizing your home so much easier, especially if it is broken down into smaller sections or rooms like this. You won't become overwhelmed when you know you just need to follow along and check the box when you complete a task. Spread out over the course of a month, this is easily accomplished rather than treating it as a true deep clean.
⌨️ Filled in Printable
One page of the printable set has everything that you need to accomplish a monthly cleaning of your home all organized room by room. There is room at the bottom for you to add a few items that you like to this version.
Kitchen – there are deep cleaning tasks like the coffee maker and the drain and simple ups like the appliances. Pulling all of that together in one afternoon will leave you feeling fresh and ready to start cooking!
Bathrooms – This is where you will spend a good portion of your monthly cleaning time, but it is also where most of the germs are harboring. Clean and descale the shower heads and faucets. Toss the shower curtain through the washing machine and wipe down the walls where there are splashes from the sink. Spend a few minutes cleaning and decluttering. That can mean combining soaps, tossing out junk found in the drawers and empty and wipe down the trash cans.
Living Room – The big ones are to wash the blankets and pillows, if you can. Another biggie is to tackle a mini clean of any carpeted areas found in the living room. It is heavily trafficked and so you will want to make sure you keep up on it.
Bedrooms – Straighten drawers and closets as they are always in disarray. Toss out anything that is stained (and can no longer be cleaned) or worn out. I like to do a quick run through the end tables of kids rooms and check underneath beds real fast, as well.
📎 Blank Printable
The blank printable is set up the same but it gives you total control over how you want to arrange your monthly cleaning. This is great for Type A people who like things done a certain way or people with a smaller home or condo.
You can also use this Blank Monthly Printable to give to kids to have them help learn how to clean certain areas that they are responsible. I also like to use this one when I need a bit more than a monthly clean but not quite a deep clean. This is a perfect time to use it.
🖥️ Printing Instructions
Printing off the printable is simple to do but just in case you haven't done it before, follow along so you can print yours and start cleaning.
Step One: Click on the button that says "download here." It will immediately download to your download folder. Look under "downloads" or "recents" to find it by the title name of the printable. Another way to find it if you want to locate it later is to look at your downloads via the photos rather than the names so you can quickly scroll and find what you want.
Step Two: Double click on the file you want to print. It will pop up a big PDF file for you in PREVIEW to then click on FILE on the upper left hand corner under that you will click on PRINT. At this point, you can also click on which pages you want. The file is for your personal use so you can use it again and again.
📩 Grab it Here
Filled In Printable
Editable Printable
🧹 Cleaning Solutions
There are so many cleaning solution options out there and Cut the Grime is working fast and furious to get up all of our favorites for you! If you are going to embark on monthly cleaning, it is best to have the cleaning products (that you can make yourself) ready to go so it can move as quickly and efficiently.
Make up these early and have them labeled and ready to go in a cleaning bin or in the laundry room, kitchen and bathrooms to minimize you running back and forth.
Heavy Duty Cleaning Spray – Make a big batch of this cleaning spray to put in several bottles and have handy all over the house. If your grime doesn't want to budge, allow this to sit for 5-10 minutes and then try again. Sometimes it needs to soak a bit for it to really cut the grime.
DIY Bathroom Cleaning Spray – This is a great one to use on a regular basis, not just monthly cleaning. This is your new "go to" spray to start cutting the germs and grime found in the bathrooms.
Homemade Disinfectant Wipes – I am addicted to disinfectant wipes but making my own is so easy to do and I save so much money! You can use this recipe for either the Paper Towel Method or the Washcloth Method.
How to Make Your House Smell Great Naturally – Once you have gone through all the effort of cleaning your home, make sure you can keep it smelling great as well! We've detected where the odors come from and solutions to tackle them going forward. No more smells!
Related Printables