This post may have affiliate links, which means I may receive commissions if you choose to purchase through links I provide (at no extra cost to you). Read More
It's that time of year again! Time to start "sweeping" out the winter, and welcoming in the Spring. There's a lot to do and it's best to keep organized with a Deep Cleaning Checklist Printable. These are the best way to make certain that you're tackling every single area in your home. It's no secret that dirt and grime are literally EVERYWHERE, so why even take the risk of missing a spot in your house?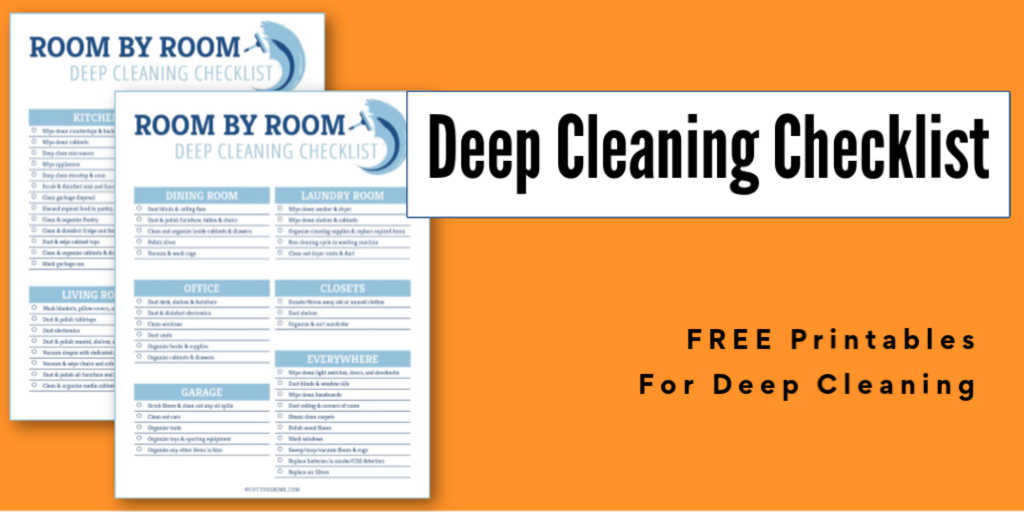 As long as you're following along with this cleaning checklist, there won't be an area in your house left uncleaned.
What is Included in a Deep Cleaning?
Deep cleaning goes well above and beyond your regular cleaning cycle. It's cleaning baseboards, window sills, ceiling fans, and vacuuming out the air ducts in each room. Deep cleaning isn't typically something that's done more than 1-2 times per year in most homes, but it's an important process to keep your home clean, smelling great and healthy.
Every time I do a thorough deep cleaning, I am surprised at how much stuff I end up cleaning. How on earth is it possible that so much dirt accumulates so fast?
How Long Does a Deep Cleaning Take?
This will vary depending on the size of your home and the number of people helping. But, you can estimate that small rooms will take around 45 minutes to clean entirely. Larger rooms will be about 1 1/2 hours. Rooms where we spend more time (like the kitchen) definitely take longer!
But don't worry too much about it. It is well worth the investment in time, as your home will smell great and you'll be thrilled at how clean it will be for your family.
Deep Cleaning Checklists For Every Room In Your House
Now that you know how important it is to deep clean your house, let's get down to the breakdown of what you need to be cleaning in every single room in your home.
How to Deep Clean Your Kitchen
Here are the areas in your kitchen that you need to tackle for a thorough deep cleaning. If you're like my family, we spend most of our time in the kitchen. Seriously. We spend more time here than even in the living room!
Wipe down countertops & backsplash
Wipe down cabinets
Deep clean microwave with a natural glass cleaner
Wipe appliances
Deep clean stove top & oven
Scrub & disinfect sink and faucet
Clean garbage disposal
Discard expired food in pantry, fridge, and freezer
Clean & organize pantry
Clean & disinfect fridge and freezer
Dust & wipe cabinet tops
Clean & organize cabinets & drawers
Wash garbage can
How to Deep Clean Your Bathroom
After the kitchen, the bathroom is the next room I prioritize. Definitely grab some of the natural cleaning recipes from this site to help you. You don't need to spend a fortune on expensive (and caustic) chemicals from the store when you can make your own natural ones at home for a fraction of the price.
Don't forget to clean these items during your next bathroom deep cleaning!
Scrub sink & countertops
Scrub bathtub & tile walls
Deep clean & polish faucets
Wipe down mirrors & cabinets
Clean & organize inside cabinets and drawers
Wash/clean shower curtain
Wash rugs
Empty trash
Wash garbage can
How to Deep Clean Your Living Room
Deep cleaning your living room is a breeze with this free printable checklist!
Wash blankets, pillow covers, and slipcovers
Dust & polish tabletops
Clean electronics (It's amazing how these attract so much dust!)
Dust & polish mantel, shelves, and picture frames
Vacuum drapes with dedicated attachment
Vacuum & wipe chairs and sofas
Dust & polish all furniture and light fixtures
Clean & organize media cabinet
Sale
How to Deep Clean Bedrooms
Use this checklist for all the bedrooms in your house. Think about how many hours per day you and your family spend sleeping in the bedroom. It's definitely worth the effort to make sure it gets a deep clean periodically.
Vacuum/wash drapes
Wash pillows & bedding
Dust & polish furniture
Vacuum drapes with dedicated drapery attachment
Flip & rotate the mattress
How to Deep Clean the Entryway of Your Home
Make a good first impression for guests by deep cleaning your entryway.
Dust & polish furniture
Vacuum & clean welcome mat
Wipe down baseboards
Organize shoes & coats
How to Deep Clean Your Office
My husband's job is encouraging more and more telework. They are calling it a "distributed workforce" but it means that he spends a lot of his day in his office, eating snacks, drinking, and making a mess (and working too, I suppose!) Make sure the workspace is deep cleaned periodically to keep the work environment healthy.
Give yourself a clean workspace with these cleaning tips.
Dust desk, shelves & furniture
Dust & disinfect electronics
Clean windows
Dust vents
Organize books & supplies
Organize cabinets & drawers
How to Deep Clean Your Garage
I always thought of the garage as perpetually "dirty." It has an unfinished concrete floor and attracts dirt, leaves, dust, oil, etc. But, we enter the house through the garage almost all of the time. So, if the garage is clean, then we won't track as much dirt into the home. Think of it as your first line of cleaning defense!
Scrub floors & clean out any oil spills
Clean out cars
Organize tools
Clean up toys & sporting equipment
Organize any other items in bins
How to Deep Clean Your Closet
It might be a small space but it holds a lot of stuff. Your most used clothes make their way to the front of the closet. So, a good place to start your deep cleaning is the BACK of the closet. Inevitably, this will be where the old or ill-fitting clothes end up. I use the rule-of-thumb that if I haven't worn it in a year, I give it away. I can guarantee that you won't even remember it after you give it away.
Donate/throw away old or unused clothes
Dust shelves
Organize & sort the wardrobe
How to Deep Clean Your Dining Room
Cleaning this room is easy and simple to do. I wish I could redesign my house as the last thing I use my dining room for is…well…dining! The table is a homework desk, my bill-paying desk, and if I am lucky, relatively free of clutter. Regardless, make sure the following items are included in your deep cleaning checklist.
Dust blinds & ceiling fans
Dust & polish furniture, tables & chairs
Wipe down shelves & cabinets
Clean and organize inside cabinets & drawers
Polish silver
Vacuum & wash rugs
How to Deep Clean Your Laundry Room
This room always gets overlooked. Which is silly, as that is where you clean your clothes. Why do that in a room that is dirty? It just doesn't make sense. So, make sure you follow the checklist to get your laundry room deep cleaned.
Wipe down washer & dryer
Organize cleaning supplies & replace expired items
Run the cleaning cycle in the washing machine
Clean out dryer vents & duct
How to Deep Clean Other Areas of Your Home
Don't forget about cleaning these areas of your home as well.
Wipe down light switches, doors, and doorknobs
Dust blinds & window sills
Wipe down and clean baseboards
Dust ceiling & corners of the room
Steam clean carpets
Polish wood floors
Wash windows
Sweep/mop/vacuum floors & rugs
Replace batteries in smoke/CO2 detectors
Replace air filters
Essential Tools to Clean Your Home
You will want to collect all of your supplies before starting this process. I hate scrambling to find something after I am in the middle of the project.
Quickie Stand & Store, Upright Broom and Dustpan Set, 35 Inch Height, for Use in Home, Kitchen, Office, Lobby, and Outdoors,Blue
ALL-PURPOSE: This lobby broom and dustpan both indoors and outdoors as it is made to hold both wet and dry debris. Keep one in your kitchen, garage, or work space to keep everything looking tidy and clean
As you can tell, this deep cleaning checklist is comprehensive, but just in case it doesn't include everything you need, I included a blank page for you to fill out.
Get Your Family Involved in Deep Cleaning
I am a firm believer that my family helped to make the mess, and they should be helping to clean it. Following a routine and involving everyone teaches your kids some good lessons. I find age appropriate tasks and delegate to them. My son joking calls it my "leadership," with a teenager eye-roll to complement it.
Grab the FREE Deep Cleaning Checklist Printable
Don't forget to grab the <<<Free Deep Cleaning Checklist>>> so that you can print it and have it to check off everything that you get done room by room!
When it comes to deep cleaning, it's always good to go above and beyond!
Is there anything that you would add to this deep cleaning checklist?
Related Articles