This post may have affiliate links, which means I may receive commissions if you choose to purchase through links I provide (at no extra cost to you). Read More
I think we can all agree that stains are the worst. And sometimes, they literally seem to just appear out of nowhere. This is true for adults and kids! One thing is for certain, though. Stains can totally make or break an outfit, shirts, or pants in a split second flat. Who really wants to be walking around with leftover coffee stains or grass stains on their clothing?
If you're used to just "tossing" out the old clothes because you feel like there's no way that the stain is ever going to come out, you're in luck. This Stain Remover Printable will prove that, with a little bit of work, your favorite piece of clothing will live to see another day!
Are Some Stains Impossible To Remove?
I'm going to be real with you. There will be times that you might not be able to get rid of those stains. It happens. But these times are far and few in between. The reason that some stains are more stubborn than others is that they're not treated right away. The key to getting rid of stains is to treat them as quickly as possible.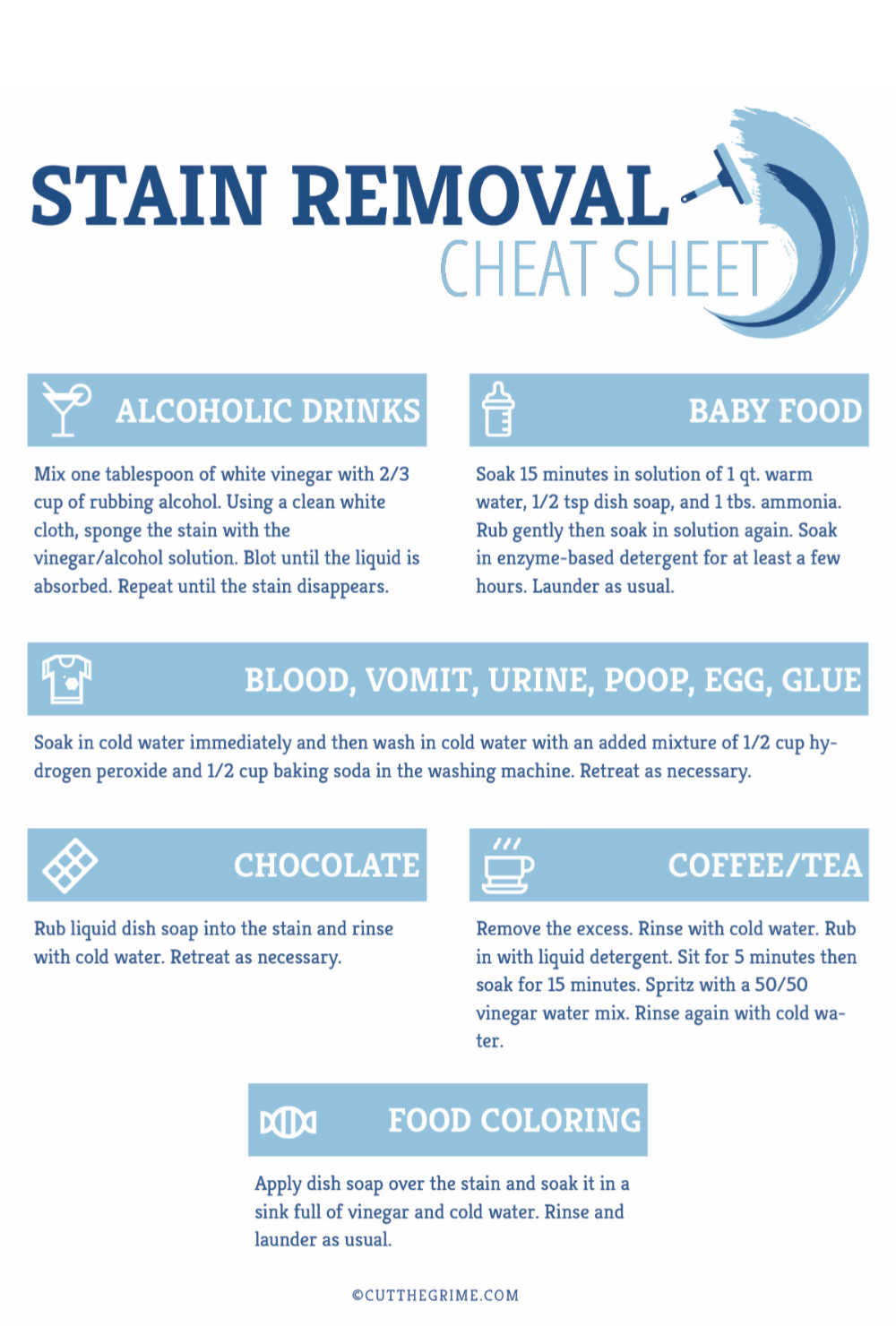 Is Hot Or Cold Water Better or Removing Stains?
It's actually split between the two. Cold water is great for getting rid of food and beverages but hot water does work better on other types of stains. Before you use the wrong one, check out the free stain remover printable to get you started down the right path.
Stain Removal Printable And Guide
Now that you know a bit about the importance of acting quickly with stains, let's dive into some simple stain removal tips and hacks that give you the confidence in how to react when that glass of wine spills or your child uses their shirt to clean the melted chocolate off their fingers. Like that's ever happened, right?
Stain Removal Tips And Tricks
If you're needing tips for knocking out stains fast, check these out! Don't forget to grab the Stain Removal Printable below! It's super handy to have with you so you know how to treat stains as soon as they happen.
How to Treat and Clean Stains
Mud Stain – With mud, let it dry first and pick off as much as you can. Then, use liquid laundry detergent, allowing to soak for 15 minutes. Take a toothbrush and a few drops of water and scrub. Once done, clean as normal in the wash and let air dry.
Play-doh – Pick off as much as you can and then put the clothing in a bowl of cold water with a bit of dish soap. Let it soak for 30 minutes. Once it is done add a bit more dish soap to the stain and then wash as normal in the washing machine.
Tomato Sauce – Apply white vinegar directly to the stain and wash. Repeat as necessary.
Wax and Gum – Use an ice cube and apply it to the stained area. It should freeze what's left and be able to easily pick off.
All bodily fluids (Blood, Pee, Vomit, Poop) Plus Eggs and Glue – Immediately add to cold water and soak. Then add to your washing machine on cold with a mixture of 1/2 cup hydrogen peroxide and 1/2 cup baking soda. Repeat until gone.
Grass Stains – Start by scrubbing the stain with liquid dish soap. Another option is to treat with a 50/50 hydrogen peroxide mix and water. Wash the clothing item in warm/hot water and repeat until gone.
Other Types of Tough Stains
See how many options there are for getting rid of stubborn stains fast? And the stains listed above are just some of the most common stains that happen. Our FREE Stain Printable also goes over how to clean these types of stains as well:
Coffee
Fruit Juice
Grease/Oil
Make-up
Mayonnaise
Ink
Soda
Baby Food
Alcoholic Drink
Chocolate
Food Coloring
We've got you covered no matter what type of stain is going to happen! Just print and have your guide handy for when those stains rear their stubborn little heads.
Free Stain Removal Guide
Get your FREE Stain Removal Guide here!
Stain Removal Tips and Hacks
Just because we've cleaned a lot of stains in our lives, here are some simple stain tips to keep in mind.
Avoid the dryer until you are 100% sure that the stain is gone. The dryer has a way to really "seal" in that stain with the high heat.
Remember that the quicker you act in treating a stain, the better chance you have of actually getting rid of it.
If your first attempt doesn't work at removing the stain, try again and repeat as necessary.
Stain Removal Ingredients And Supplies
While this list doesn't talk about all the types of removal ingredients and options, these are the main ones that you need to have on hand.
Liquid Dish Soap – This is used to treat a lot of stains, so have it on hand. It's great for food stains and grease.
Bleach – Great for white fabrics.
Water – Water is always part of getting rid of stains. Hot, cold, and even ice cubes are all used and are an important part of the puzzle.
Vinegar – Vinegar is a great natural product to use to eliminate stains. It's not suitable for all fabrics though so be aware of that before using. It's always a good idea to test the color fastness in an inconspicuous spot first.
Hydrogen peroxide – Great for removing challenging stains and it also disinfects as well. It's sometimes used with baking soda or just in combination with water.
There you have it! Some of the best stain removal tips that you'll find along with a simple and free printable, too! You now have the power to eliminate any type of stain that comes your way!
Do you have any other stain removal tips to share?